Easy Jive lessons
Class run by Forest of Dean Jive and Swing
Thursday 13 December 2018
In Past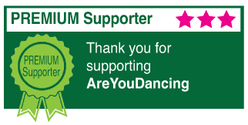 a very simple jive
Dance Styles: 1940s Jive, Lindy Hop, Rock n Roll
Price: £5 including tea and biscuits
Time: 8.00pm-9.00pm
Ticket Options: Pay on door
just to get everyone on the floor a much simpler version of jive with bits of rock'n'roll, lindy hop and modern jive. There is now a second lesson with footwork and more moves.
Dance Blast venue
A big hall and car park at the town end of PenY Pound on your right, it's behind another building on the road. Look out for the sign on the railings saying jive tonight.
jive / rock'n'roll dancing classes. Designed for absolute beginners. Every week is complete in itself so you can start any week it makes no difference. Partners not essential. Two left feet welcome the lessons are made very simple. Practice and cup of tea for half an hour after the lesson.
Address: Dance Centre, Pen Y Pound, Abergavenny, Gwent NP7 5UD
Show on Google Maps