The Rendezvous Hotel Dance Weekend
Weekend run by Hurst Dance Studios
Friday 26 July 2019 - Sunday 28 July 2019
In Past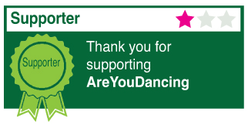 A Fabulous 50/50 Dance Weekend
Dance Styles: American Smooth, Cha Cha Cha (Ballroom), Foxtrot, Jive (Ballroom), Modern Tango, Old Time Dancing, Paso Doble, Quickstep, Rumba, Samba, Popular Sequence, Viennese Waltz, Waltz, Modern Sequence
Price: £200pp if booked before Christmas
Time: 3pm - 12pm
Ticket Options: Ticket Only (Prebooking essential)
Our dance weekends just got even bigger and better! From 2019, on top of all the usual great things, guests can enjoy a lesson led by our demonstrating couple and a Sunday morning dance session before departure, all at no extra cost.
• Dinner, bed and breakfast.
• 8+ hours of workshops and lessons in varying styles and levels
• Friday afternoon workshops
• Friday night dance – this usually has a theme – guests find this great fun and a wonderful icebreaker. You can choose to get dressed up to
get in the mood, however smart casual is absolutely fine too.
• Saturday daytime – workshops from 10am - 5pm
• Saturday night dinner and dance – Black Tie and usually includes an all-star demonstration after dinner
• Sunday Morning recap session before departure
• We also try to host a workshop with the demonstrating couple
All weekends are hosted by Phil.
Please note that the dance break programmes may vary and be subject to change, due to exceptional circumstances
Booking coulnd't be easier.....
JUST A £50 deposit per person required
• Choose your break
• Contact us via phone to confirm availability - 07872 146896 / phil@hurstdance.co.uk
• Print off a booking form the website
• Post your booking form to 15 Liscard Street, Atherton, Manchester, M46 0LG
• We no longer take cheques for deposits – please ask for payment details
The Rendevous Hotel venue
A privately owned hotel over looking the Yorkshire dales.
Address: Rendevous Hotel Keighley Road Skipton Skipton North Yorkshire BD23 2TA
Show on Google Maps