New Year's Eve Ceilidh
Dance run by Victoria B. Berringer
Monday 31 December 2018
In Past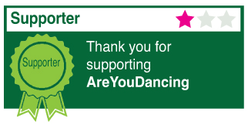 New Year's Eve Ceilidh/Barn Dance
Dance Styles: English Ceilidh
Price: £14.00 from Victoria on 01538 361306 & Roger on 01538 266862
Time: Doors open at 7.45 pm - dancing till 12.30 am
Ticket Options: Ticket Only (Prebooking essential)
New Years Eve Celebratory Ceilidh. TICKETS IN ADVANCE.
Dancing to the music of The Shropshire Heroes Ceilidh Band with Callers Steve Hodgskiss and Victoria Berringer who will guide dancers through every step so that it is easy to join in.
Tickets £14 each. All profits go to the Disasters Emergency Committee
Bring own Drinks and Food.
This is usually a well attended event so don't delay to get your tickets.
Beginners and experienced dancers very welcome.
This is our 6th New Year's Eve Ceilidh and we are looking forward to another great evening.
Please do ring if you need directions. 01538 361306
Ipstones Memorial Hall, Ipstones venue
This hall in newly refurbished with a lovely dance floor. It is situated on Church Lane in Ipstones .
Take the B5053 Off the A523 into Ipstones Village. The turn off for Church Lane is at the Cross Roads.
Some parking outside the hall. Also parking on the road side.
New Year's Eve Ceilidh/Barn Dance. TICKETS IN ADVANCE.
Dancing to the music of The Shropshire Heroes with Callers Steve Hodgskiss and Victoria Berringer.
Bring own Drinks and Food. Doors open 7.45 pm dancing till 12.30 am. £14 each. Tickets from Victoria on 01538 361306 and Roger on 01538 266862
All profits go to The Disasters Emergency Committee
This is usually a well attended event so don't delay in buying your tickets.
Address: Ipstones, Church Lane, Staffordshire ST10 2LD Leek Staffordshire ST10 2LD
Show on Google Maps