Dance Through The Decades
Dance run by Feathersteps School Of Dance
Friday 01 February 2019
In Past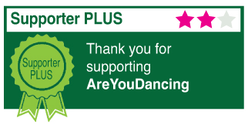 Dance Through The Decades with The Swing Commanders
Dance Styles: 1940s Jive, Barn Dance, Boogie Woogie, Cha Cha Cha (Ballroom), Charleston, East Coast Swing, Foxtrot, Jive (Ballroom), Lindy Hop, Quickstep, Rock n Roll, Rumba, Samba, Waltz, West Coast Swing
Price: £16.00
Time: 7.00pm to Midnight
Ticket Options: Ticket Only (Prebooking essential)
Howden Shire Hall and Feathersteps School Of Dance are excited and proud to welcome back the amazing SWING COMMANDERS!
After making a hugely successful debut at The Shire Hall in 2018, the Swing Commanders were keen to return for another gig! So here they are, and once again, they are REALLY not to be missed...
"If it swings, they can, and will play it!"
EUROPE'S NUMBER ONE WESTERN SWING BAND
The Swing Commanders is a stunningly vibrant and versatile group that performs an exciting mix of 1940s classics, boogie-woogie, western swing, 50's jump jazz and much more!
During sets, Sophie of Feathersteps School Of Dance will keep you dancing with popular music from the 30s, 40s, 50s and 60s. So take to the floor for a Charleston, or perhaps a Square Tango? Maybe try Lindy Hop? Is Jive and Rock'n'Roll more your thing? Don't forget the general boogie! So come along and DANCE THROUGH THE DECADES!
Enter our Ballroom to find a Time Warped Dance Hall. Each table will be decorated with memorabilia, along with the favourite sweets from that specific decade. The walls will be adorned with posters and vinyl from the years of the 30s, 40s, 50s and 60s.
Vintage & Retro dress optional but encouraged.
Howden Shire Hall
11 Market Place
DN14 7BJ
Doors Open 7.00pm
Carriages at 12.00am
GET YOUR TICKETS TODAY
Contact Sophie at Feathersteps
07909 334343
sophiebrooke02@googlemail.com
Contact Howden Shire Hall Box Office
01430 432510
www.howden-shirehall.com

Howden Shire Hall venue
The Howden Shire Hall is a wonderful listed building with exquisite facilities catering for large dance events, live music, theatre and cinema productions. It is the heart of the Medieval Town of Howden, holding regular craft markets and community events. Local businesses use the Shire Hall as a base for their classes, which range from Ballroom & Latin with Feathersteps School Of Dance, Lindy Hop with Kingston Swing, Salsa with Salsa Howden and Theatre Dance with TATS Howden.
Howden Train Station is 2 miles away
M62 is 1 mile away
Parking is on street or in one of the many local car parks dotted around the town
Address: Howden Shire Hall 13 Market Place Howden Howden York DN14 7BJ
Show on Google Maps