Club Jive 2 Room Freestyle
Dance run by Club Jive
Friday 26 April 2019
In Past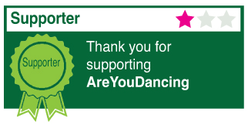 Freestyle Modern Jive / WCS ++ dance night
Dance Styles: Blues, Leroc, Modern Jive, West Coast Swing
Price: £10
Time: 19.15/23.30
Ticket Options: Pay on door
This is a 2 room event, featuring mainly 'modern jive' music in the main hall, and a mix of music suitable for dancers of WCS, blues, and tango in the 'Club Lounge' room.
If you like a luscious mix of pop, dance, smooth latin, swing, blues, and nu-tango, then this event is for you.
Main Hall 19.15 - 20.00 - Argentine tango class
DJ Dave T 20.00 - 23.30 - Modern Jive Freestyle
Club Lounge 20.00 - 21.00 - West Coast Swing class
DJ Mikey    21.00 - 23.30 - Freestyle (WCS / blues / tango mix)
Entrance £10 (pay on the door).
The venue has a large wooden dance floor and air conditioning.
There is no bar, but we will be serving some soft drinks, and you are welcome bring your own supplies (including alcohol).
The classes are suitable for beginners/improvers, but levels will be adjusted according to the ability of those attending.
We also operate a 'loyalty card' scheme, which gives one free entry after 6 visits.
This means that you will get a discount of about 15% on the door price on average, if you are a regular visitor to our events.
Please see our web site for the latest information.

Addlestone Community Centre venue
A lovely modern hall with a large wooden dance floor.
Just off M25, Jct. 11.
Approx. 200m South of Addlestone Tesco Superstore.
Address: Garfield Road Addlestone Surrey KT15 2NJ
Show on Google Maps