Club Jive 'Hogma Hoot' Dance
Dance run by Club Jive
Friday 27 December 2019
In Past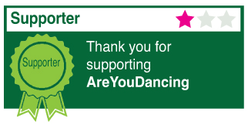 Club Jive 'Hogma Hoot' Festive Freestyle
Dance Styles: Argentine Tango, Leroc, Modern Jive, West Coast Swing, Smooth Modern Jive
Price: £12 door, advance discounts via our events / web site
Time: 19.15 - 23.30
Ticket Options: Ticket Recommended (Pay on door if places available)
By popular demand, we will once again be bringing you our Scottish themed 'Hogma Hoot' dance night, where there will be tasty treats in abundance. Yes it's our big 'nearly New Year' party, with fabulous festive fayre and men in kilts (could that be you?).
This will be a 3 room event, featuring mainly 'modern jive' music in the Main Hall, music for dancers of West Coast Swing in the 'Club Lounge' (now all evening!), and mix of tango/chill/expressive music in the 'Tango & Chill Zone' (from 20.00).
If you like a luscious mix of pop, dance, smooth latin, swing, R&B, blues, and nu-tango, then this event is for you :)
The door price for this event will be £12, but discounted advance tickets will be available via the front desk at our October & November events.
There will be no paper tickets issued for this event (we will maintain records of those that have paid).
Please note that our free entry cards will not be valid for this event.
We hope that you will join us once again at this excellent & popular event.

Addlestone Community Centre venue
A lovely modern hall with a large wooden dance floor.
Just off M25, Jct. 11.
Approx. 200m South of Addlestone Tesco Superstore.
Address: Garfield Road Addlestone Surrey KT15 2NJ
Show on Google Maps