T-Jive
Class run by T-Jive
Tuesday 29 January 2019
In Past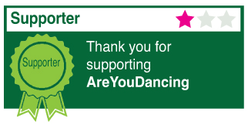 Weekly afternoon gentle jive class from beginner level and with many tea breaks.
Dance Styles: Modern Jive
Price: Free first week then £5 or 5 weeks for 4 offer.
Time: 2-4pm
Ticket Options: Pay on door
Gentle modern jive is easy to learn, wonderful fun for all ages and a great way to meet and make new friends especially in the breaks when we like to sit and chat while we have a Cupa and a biscuit. We are a warm and friendly dance class with many taxi dancers to lead or follow so come on your own or with a partner. We are currently offering 5 weeks free tuition for anyone wanting to learn to lead, just turn up and ask about it on the door.
The Fear Hall, keynsham venue
T-Jive is a local, friendly, up and coming, independent Modern Jive facilitator operating in BS31, BS15. We pride ourselves on creating a warm friendly and welcoming atmosphere where people can come to socialise, dance or learn to dance, meet new and old friends and of course drink tea. The class venue is at The Fear Hall, 30 High Street, Keynsham, Bristol, BS31 1DQ, Tuesday's 2 - 4 pm from 17th May 2016, parking at P&D round the corner at reasonable rates. First lesson is free then £5 per session or 5 for 4 offer. We also hold Tea Dances at the Hanham Folk (Community) Centre, High Street, Hanham, BS15 3EJ on some Sundays from 3 to 6 pm. £7 if you pre book and £10 on the door. Plenty of parking. We will advertise here so look out for dates.
The Fear Hall is on the west side of Keynsham High Street on the A4 near the junction with Charlton Road. From Bristol at the end of ring road A4174 take the A4 sign posted to Keynsham an follow to the High Street, Fear Hall is on the right just before the road goes to the right into Charlton Road, the main car park is first left on Charlton Road, in Ashton Way. From Bath follow the A4, continue on the bypass, dual carriageway towards Bristol and turn left at the roundabout on to A4 and follow instructions above. The train station is close by and on thr main Bath/Bristol line, there are also many connecting bus routes.
Address: 30, High Street, Keynsham, Bristol Keynsham Bristol BS31 1DQ
Show on Google Maps
T-Jive organiser
T-Jive is a daytime modern Jive class/tea dance and social group
More information about T-Jive including other forthcoming events