Tea Dance
Dance run by Vibez Dance Studios
Sunday 17 February 2019
In Past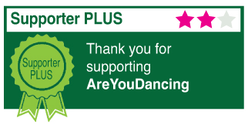 Vibez Tea Dance
Dance Styles: American Smooth, Cha Cha Cha (Ballroom), Foxtrot, Jive (Ballroom), Modern Tango, Old Time Dancing, Paso Doble, Quickstep, Rumba, Samba, Popular Sequence, Viennese Waltz, Waltz, Modern Sequence
Price: £5.00 per person
Time: 3pm - 5.30pm
Ticket Options: Not yet specified
Come and join us for a wonderful afternoon of dancing.
We also have a sequence dance class before our tea dance so if you'd like to come along it will be at 1.45pm - 2.45pm.
£6.00 for Sequence class
£10.00 for Sequence class and Tea dance.
Vibez venue
Come and join us for a Fantastic evening of dancing, Great music and a great atmosphere!
Time: 8pm - 11pm
Price : £5.00 perperson.

We look forward to seeing you!
Free parking behind our studios from 6pm onwards, Our entrance is at The car park end of the alleyway. We are on the first floor once you enter the building.
Address: First Floor 81 - 87 Crockhamwell Road Woodley, Reading. Berkshire Woodley Reading RG5 3JP
Show on Google Maps