Ceroc Beginners Part 2 Workshop
Workshop run by Ceroc Surrey
Sunday 28 April 2019
In Past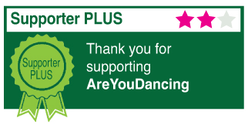 Beginners Part 2 workshop
Dance Styles: Modern Jive
Price: £35.00 plus an initial £2 non member fee.
Time: 1.00pm-5.00pm
Ticket Options: Ticket Only (Prebooking essential)
The workshop is an excellent way of rapidly improving your dancing, with a maximum of 22 people in each workshop there is also a greater opportunity for personal tuition.
The atmosphere is very relaxed and friendly, and there's no need to bring a partner.
Beginners level: If you have done less than 10 beginners classes then this Cerocshop is tailor made for you.
Ideal if you have just started and wish to 'kick start' your dancing. Also suitable for dancers who just want to ensure that they develop good technique.
You will learn Ceroc basics, 10-12 beginners moves, how to link moves, turning & spinning, freestyle techniques. This Cerocshop gives you the equivalent experience of 6 classes.
After the workshop you will immediately have a repertoire of core beginner's moves. You will be able to freestyle and enjoy full participation at regular Ceroc evenings.
There are 2 beginners workshops, part 1 and 2, these can be attended in either order.
To find out more details or to book your place please refer to https://www.ceroc.com/67/1241/ceroc-surrey or call 07938 520696
West Clandon venue
Most people learn Ceroc by regularly attending once a week. If however you want to learn quicker, we host intensive weekend Workshop at this venue in an idyllic setting in Surrey.
The Workshops are designed to improve confidence and ability, although very relaxed and fun, they will really help you improve your dancing.
Free car parking
Clandon Station is 2 minutes walk from the Village Hall
5 minutes from A3 and 10 minutes from M25
Address: Village Hall, The Street West Clandon Surrey GU4 7TE
Show on Google Maps