Ceroc Storey's Field
Class run by Ceroc Spirit
Tuesday 26 March 2019
In Past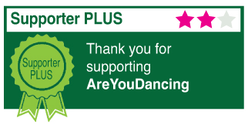 Ceroc is best described as modern jive with flavours of Latin & Tango
Dance Styles: Modern Jive
Price: £8 for existing members
Time: Beginners class is at 7.30 with doors open from 7.15
Ticket Options: Pay on door
Who are we?
We are a group of people aged 18 -80 who decided to learn a new skill and succeeded while having a lot of fun along the way.
What we do? – We learn Ceroc
Ceroc has made learning to dance fun, easy and relaxed with hundreds of classes across the UK.
Best described as modern jive with a bit of Latin, Ceroc is designed to be easy to learn, so no complicated footwork.
You don't need a partner to join either so you can come on your own.
If you are new to the area, want to expand your existing social circle, have some fun and get fit all at the same time then this could be for you.
Beginners are made to feel really welcome and will be very well looked after.
If you would like to know more then contact David@cerocevoke.co.uk or have a look at FB
https://www.facebook.com/search/top/?q=ceroc%20storey%27s%20field
https://www.youtube.com/user/CerocOfficial
Storey's Field Centre venue
The stunning Storey's Field Centre is open from June 2018 on Tuesday evenings. Set in a purpose built development with an organic feel this venue has a fantastic sprung floor, state of the art lighting and funky chill out areas.
Storey's field is situated between the A1303 and the Huntington road. There is parking outside and if full then Madingley park & ride is a 5 minute walk with free parking.
Address: Storey's Field Centre, Eddington Avenue, CB3 1AA Cambridge Cambridge cb3 1aa
Show on Google Maps