JiveTango March Party
Dance run by JiveTango
Saturday 23 March 2019
In Past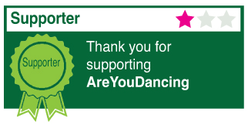 2-Room Modern Jive and Tango freestyle, with free Tango classes
Dance Styles: Argentine Tango, Modern Jive, Salon Tango, Tango Nuevo, Smooth Modern Jive
Price: Only £9 if you book in advance, or £12 on the door
Time: 7:15 - 11:45pm
Ticket Options: Not yet specified
Our March Party: a Two-Room Modern Jive and Tango freestyle, with DJs Bob Ball and David Bailey, and free Tango Classes!
Our first JiveTango party at Bookham was a fabulous success, so we're having another one! Saturday 23rd March: a two-room experience including the finest Modern Jive and Tango music, lessons and dancing all night long.
It'll be a great evening of some of the finest music and dancing with a group of your friends, including two rooms, and with two free Tango classes.
We have 4 hours of Modern Jive dancing, 3 hours of Tango dancing, and 2 free Tango classes.
Entry: Only £9 per person if booked in advance, or £12 on the door.
More details:
Main Room: Modern Jive Freestyle with DJ Bob Ball from 7:45pm – 11:45pm
Back Room:
- Tango Classes, 7:30pm – 8:45pm with David and Ann.
- Nuevo Tango Milonga, 8:45pm – 11:45pm, with DJ David playing a selection of superb Tango Nuevo / Alt / Tango Blues tracks throughout the evening.
More details http://jivetango.com/jivetango-march-party-23rd-march-2019
The Old Barn Hall venue
A lovely two-room venue with a gorgeous sound system, airconditioning, car park and fabulous floors.
More information: http://jivetango.com/the-venue
Less than 10 minutes from M25 Junctions 9 and 10.
By Car: The Old Barn Hall is on Church Road, the entrance has a white boundary wall.
By Public Transport: The venue is about 1km from Bookham station on the Waterloo to Guildford line (via Epsom & Leatherhead).
The 479 bus between Epsom and Guildford goes past the Old Barn Hall.
Parking
There is a double parking system in the front car park – please do not park on the outside space and leave the inside space empty, we have a lot of cars to fit in.
If the car park is full, we advise you not to park on the road – there is a large car park in the centre of the village very close to the main crossroads
More details: http://jivetango.com/the-venue
Address: 55 Church Road Great Bookham Surrey KT23 3PQ
Show on Google Maps