Ballroom/Latin Improvers Class
Class run by Pegasus Professional Services
Tuesday 21 May 2019
In Past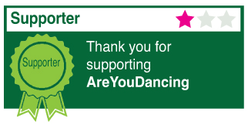 Improvers Class
Dance Styles: Cha Cha Cha (Ballroom), Foxtrot, Jive (Ballroom), Modern Jive, Modern Tango, Paso Doble, Quickstep, Rumba, Samba, Viennese Waltz, Waltz
Price: £7.00 per person
Time: 8.00pm
Ticket Options: Not yet specified
Improvers class for those with some experience in Ballroom and Latin.
dances taught - Waltz, Quickstep, Tango, Foxtrot, Rumba, Cha Cha Cha, Samba, Jive, Modern Jive, Viennese, Paso Doble
Salfords venue
Adult Ballroom/Latin Dance class for Beginners and Improvers. Classes start at 8.00pm for 3/4 hour, 15 min tea break, followed by 1/2 hour session. Social dancing commences 9.30pm. Partners are changed throughout the session to aid the learning experience.
No on-site parking. Cars can park in church car park opposite.
Address: 5 Honeycrock Lane Salfords, Redhill, Surrey RH1 5DG
Show on Google Maps