Dance at 8 - Easy Jive & Cha Cha
Class run by Dance at 8
Thursday 25 April 2019
In Past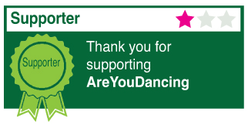 Beginners Easy jive (Swing) (7:30pm) Beginners Cha Cha Cha (8:30pm)
Dance Styles: 1940s Jive, Cha Cha Cha (Ballroom)
Price: £7 per person per class
Time: 7:30pm - 8:30pm
Ticket Options: Not yet specified
Starting Thursday April 4th, 2019 ~ 6 weeks
Last chance to join in April 11th
7:30pm – 8:30pm 'STEP ONE' 'Easy Jive' (Swing) for Beginners
Jive is a ballroom dance style that originated in the United States from African-Americans. It is a lively form of 1940's Swing dance and this class covers an easy single time Swing routine which can be easily adapted to other forms of Jive. Easy to learn and a great starter dance.
___________________________________________________________________
8:30pm - 9:30pm 'STEP ONE' Latin 'Cha Cha Cha' for Beginners
The Cha Cha is one of the most popular of the social Latin-American dances. Lively and flirtatious, the Cha Cha is full of passion and energy.The Cha Cha is a vibrant, flamboyant and playful dance. The light and bubbly feel of the Cha Cha gives it a unique sense of fun for dancers throughout the world. The Cha Cha requires small steps and lots of hip motion (Cuban motion), as it is danced in 4/4 time.
Suitable for: Absolute Beginners with no dance experience to more experienced dancers who have yet to experience this style of Dance (or would like a refresher.) Everyone welcome, Regardless of where you currently dance. For more information phone 'Dance at 8' on 01905 427511. Sessions are £7 each - Pay as you go.
Sacred Heart community Hall venue
- Large Dance Floor
- Free Car Park
Address: 208 Worcester Road Droitwich Worcestershire WR9 8AZ
Show on Google Maps
Dance at 8 organiser
Dance at 8 offers Classes, Coaching, Choreography and Competition Training from Beginner to Winner
More information about Dance at 8 including other forthcoming events