Beginners Plus 1
Class run by Lesley's Social Dancing
Monday 22 July 2019
In Past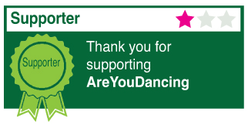 Beginners Course Plus 1
Dance Styles: Cha Cha Cha (Ballroom), Jive (Ballroom), Modern Tango, Quickstep, Rumba, Waltz
Price: £7 per Dancer Pay on the Door
Time: 6.15 to 7.15
Ticket Options: Not yet specified
This Beginners class started in January 2019 and they have now completed one term hence the title Beginners Plus 1. Interest has got you this far so read on as you are now on your way to your first FREE dance lesson if you have not joined one of my classes before.
You will learn to dance in a social manner having fun and enjoyment as you progress through the lessons week by week. The group have done very well and have started to learn the Waltz, Cha Cha Cha, Social Foxtrot and Quickstep, they will be moving onto other dances in the next term such as Jive and Rumba and adding new steps to the dances they have started to learn as you gain confidence.
I will be there to guide you through this journey into the world of Social Dancing where I hope you will find new friends and a new pleasure in Dancing!
You do not need to have a partner to come to class.
Please contact me for more information, to book your place, or simply turn up on the 29th April, 2019. If you have not danced with us before your First Lesson is Free...
Lesley
Hemingford Pavilion venue
Hemingford Grey Sports Pavilion has a sprung wooden floor, parking, and air conditioning for the summer months. There is a Sports Bar upstairs.
Leave A14 at Junction for St Ives
Address: Hemingford Pavilion, Manor Road, Hemingford Grey, Cambs., PE28 9BX Hemingford Grey Cambridgeshire PE28 9BX
Show on Google Maps