Back To Basics Beginners Swing Jive
Class run by Lin Mason
Thursday 31 October 2019
In Past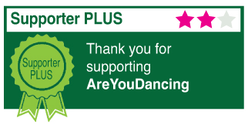 Stadon Road, Anstey in easy reach of all districts.
Dance Styles: 1940s Jive, Lindy Hop
Price: £6 each per week
Time: 8pm - 10pm
Ticket Options: Pay on door
We are now on 8 count Lindy
Strolls will be taught as warm ups.
It benefits you and the rest of the class if you can/could try to come each week!
Then we all progress at the same rate
please bring your own refreshments
No partner needed.
Guys please join us as always plenty of girls!!
Time to discuss music, style, etc
This session is too far advanced for anyone to join us.
Bookings are being taken for January 2020
Jubilee Hall venue
Parish Hall with safe lit car parking.
Address: Jubilee Hall, stadon Road, Anstey, Leicester Leicestershire LE7 7AY
Show on Google Maps
Lin Mason organiser
(was Quorn Jump Jive & Swing) 2017 the year for change THE WHISTLE STOMP new club
More information about Lin Mason including other forthcoming events