Welsh Tango Festive Extravaganza
Festival run by Urban Tango Nights
Friday 29 November 2019 - Sunday 01 December 2019
In Past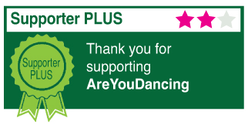 Wales' 2nd International Tango Festival
Dance Styles: Argentine Tango, Blues, Modern Jive, Salon Tango, Tango Nuevo, Milonga, Tango Vals, Tango Fusion, Blues Fusion
Price: Various packages available, see website for details
Time: 3 Days of workshops and dancing
Ticket Options: Ticket Only (Prebooking essential)
The Wales International Tango Festival returns for a 2nd year!
After the success of last year we have added a third day on the Friday with a 2 room welcome milonga with Wayne Rozier of TangoFfS DJing the alternative room.
On Saturday there will be 2 sets of workshops catering for both beginners and intermediate/advanced dancers and there will be more Blues in the Program.
Urban Tango Nights will be joined by:
Nick Jones & Diana Cruz
Eduardo Bozzo of Tango Alchemy
Sian & Sue of Tango Alchemy
Island Dance Wizards
We also have live music on both Saturday and Sunday. Saturday is brought to you by Cabaret Tango playing their eclectic mix of music at our main Ball. On Sunday there will be a lecture from Mirek Salmon on Astor Piazolla and a chamber concert from Tango Calor, followed by music for the Milonga.
Booking is essential even for the Milongas, so please visit our website to see all the programme, packages and fill out the booking form!!
http://urbantangonights.wixsite.com/mysite/welshinternationaltangofestival
Room B, Fulton House venue
Address: Swansea University, Singleton Park, Swansea Swansea SA2 8PP
Show on Google Maps