Total Tango - 'Volcadas Revealed'!!
Special run by Island Dance Wizards
Saturday 18 May 2019
In Past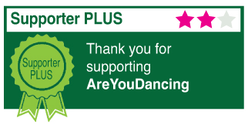 Saturday Afternoon MasterClass designed to put you in HIGHER DEMAND as a Social Dancer!!
Dance Styles: Argentine Tango, Salon Tango, Tango Nuevo, Milonga, Tango Vals, Tango Fusion
Price: £30/leader-follower pair) booking essential using BACS - all partners are rotated in the class
Time: Arrive 14.00 for a 14.15 start: 2 linked classes plus refreshment break between/social dance at end
Ticket Options: Ticket Only (Prebooking essential)
Volcadas (off-axis leans) are great for 'Show Performances', but you wouldn't want to use them on a Social Dance Floor, right??
Wrong! - This Special One-Off MasterClass in Portsmouth 'Spills the Secrets' of Social Volcadas by focusing on safe technique and clear communication for both Leaders and Followers so that you can improvise your OWN Volcada variations to use safely in a tight space when social dancing...
Find out why SO many Argentine TANGO Dancers all along the South Coast are suddenly raving about IDW's NEW Saturday Afternoon 'Total Tango' Classes and MasterClasses!!
- Basil and Mandy x
Also highly recommended as a 'Health Check for your Dance' for all Tango dancers within reasonable travelling distance of Southsea – but please book early to avoid disappointment. Class size is limited and prior booking with payment by BACS is essential to join the fun! (Text 07534 242834 for details of how!)
Facebook Users can find more details here: https://www.facebook.com/events/391202015055253/
N.B. - THIS MasterClass is NOT suitable for those new to Tango - it is intended for those who already regularly attend Tango Lessons (or have done so in the past) and who value the opportunity of working with full time professional Tango Teachers to reassess and improve all aspects of their Dance. For details of a Special Argentine Tango FUN-damentals Lesson in Southsea just before the MasterClass see:
https://www.facebook.com/events/2285056331734227/
R.O.A.R.
St. Simon's Church Hall venue
Address: Waverley Rd, Portsmouth Southsea Portsmouth PO5 2QE
Show on Google Maps