Beginners Lindy Hop Class
Class run by Swingout Swindon
Tuesday 04 June 2019
In Past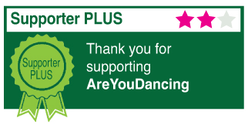 A Beginners Lindy Hop class - including 6 beat and some 8 beat charleston moves/rhythms
Dance Styles: Charleston, Jazz Steps, Lindy Hop
Price: £7
Time: 7.15pm to 8.45pm
Ticket Options: Pay on door
For anyone wanting to learn the basic 6-beat Lindy Hop Rhythm and some 8-beat Charleston moves.
Suitable for anyone wanting to learn partner dancing.Our Lindy Hop classes are filled with smiles and laughter, along with some great moves to get you on that dance floor. Although you require a partner to dance with, don't worry, if you don't have one to bring there will be plenty there, as we rotate everyone around throughout the lesson.Don't forget your footwear! Make sure you have comfy and supportive shoes but not too grippy on the soles
Classes are fortnightly: 12/02/2019 26/02/2019  12/03/2019/2019 26/03/2019 09/04/2019  23/04/19  07/05/19  21/05/19  04/06/19 18/06/19  02/07/19  16/07/19  30/07/19
The class is 1.1/2 hours long which includes 15-30 minutes for dance practice.
Checkout our Facebook page for information
https://www.facebook.com/events/759702361072504/
Broad Town Village Hall venue
The Hall comprises:
large hall - 24' x 49'
stage area - 16' 6" x 8' 6"
meeting room - 24' x 8'
kitchen area complete with cooker, cutlery, kettles etc
bar area – useable only when specifically booked
Ladies & Gents toilets [Ladies with baby changing facilities]
parking
The hall is heated and well lit. The maximum number permitted in the Hall is 150.
Address: Broad Town Wiltshire Broad Town, Swindon Wiltshire SN4 7RL
Show on Google Maps