Beginners Jive Classes
Class run by Swingbytes Dance
Thursday 30 May 2019
In Past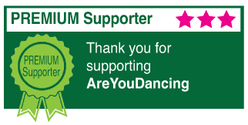 Beginners Jive & Intermediate Jive Classes
Dance Styles: 1940s Jive, Charleston, East Coast Swing
Price: £5 per class
Time: Beginners Jive 7:30, Intermediate Jive 8:30
Ticket Options: Pay on door
Jim and Nicky have been teaching on the National and International Swing Dance circuit for more years than they care to admit too. They are experienced at teaching to all levels and are renown for their fun, relaxed teaching style.
Beginners Jive - 7.30- 8.15pm
Intermediate Jive- 8:30 - 9:15pm
Social dancing 9:15 - 10:00
What is Jive?
In Ballroom dancing, Jive is a dance style in 4/4 time that originated in the United States from African-Americans in the early 1930's. It was originally presented to the public as 'Jive' in 1934 by Cab Calloway. It is a lively a
What is Jive?