New Term of Collegiate Shag Lessons
Class run by Swingbytes Dance
Monday 02 December 2019
In Past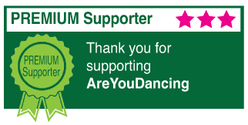 New Term Of Beginners Collegiate Shag
Dance Styles: Collegiate Shag
Price: £5 per class £9 for both
Time: 7:45 - 10pm
Ticket Options: Pay on door
New Beginners Term of Collegiate Shag
Jim and Nicky have been teaching on the National and International Swing Dance circuit for more years than they care to admit too. They are experienced at teaching to all levels and are renown for their fun, relaxed teaching style.
Beginners class 7:45 - 8:45pm
Practice 8:45-9pm
Intermediates 9-10pm
10pm Practice
What is shag?
Its a partner dance done primarily, but not always to uptempo swing jazz music. It belongs to the swing family of American vernacular dances that arose in the 1920s and 30s. It is believed that the dance originated in the Carolinas in the late 1920s, later spreading across the United States during the 1930s. Its hey day was 1938-39 and was more popular than Lindy hop.
The Collegiate Shag or Shag as its now become is still danced today by swing dance enthusiasts worldwide and is enjoying a resurgence in the USA and UK. Here in the West Country there is a large number of hardcore Shag dancers who have been bitten by the Shag bug.
Contact Nik or Jim 01453 454345 for further info/queries

Witcombe and Bentham Village Hall venue
Address: Pillcroft Road Witcombe nr Gloucester Gloucestershire GL3 4TB
Show on Google Maps