Newland Tango Beyond Figures #2
Class run by Moving Experience
Wednesday 06 November 2019
In Past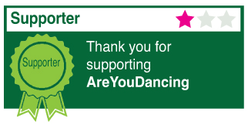 Tango Beyond Figures . Autumn Tango Course with Bärbel
Dance Styles: Argentine Tango, Salon Tango, Milonga, Tango Vals
Price: Autumn Tango Course : 14 dates x 6 GBP = 84 GBP
Time: 7–8 pm Beginners, 8–8.15 pm Practice, 8.15–9.15pm Tango Beyond Figures, 9.15-9.30 pm Practice
Ticket Options: Ticket Recommended (Pay on door if places available)
Autumn Tango Course 'Tango Beyond Figures' with Bärbel Rücker
all Wednesdays : 4th Sept - 4th Dec 2019
8-9.30 pm at Newland Village Room, Forest of Dean
Learn Argentine Tango in a friendly relaxed environment with Bärbel who has over 20 years experience of teaching tango.
This Autumn Tango Course will focus on the music and take up different aspects of the dance too, e.g. the embrace, connection, the easy way on a social dance floor, turns & ochos. A good technique will help you to relate your dance more to the music and to your partner. This course will be open for everyone, dancing for few hours or many years. Nevertheless we will start with simpler things and getting more advanced during each session.
This is NOT an absolute beginners course. Sign up for the next beginners course starting in September 2019 via email info@movingexperience.eu.
SCHEDULE
7.00 - 8.00 pm - Beginners Course
8.00 - 8.15 pm - Practice (both courses)
8.15 - 9.15 pm - Tango Beyond Figures (Improvers/Advanced)
9.15 - 9.30 pm - Practice
Bärbel is a qualified Feldenkrais practitioner and with her knowledge about learning and the body the tango lessons become much more than that and reflect back into your daily life.
PRICING!
Autumn Tango Course : 14 x 6 GBP = 84 GBP
SEPTEMBER : 4 x 8 GBP = 32 GBP
OCTOBER : 5 x 8 GBP = 40 GBP
NOVEMBER/DECEMBER : 5 x 8 GBP = 40 GBP
.
£10 drop in on the day for each session.
BOOKINGS & questions
Email : info@movingexperience.eu
Newland Village Room venue
Friendly village hall with a small meeting room attached. Newly refurbished with an attractive garden area alongside a pond. Parking for approx. 2 cars off-road and others at roadside.
Address: Newland Village Room, Newland Coleford Monmouthshire GL16 8NP
Show on Google Maps