Unicorn Ceilidhs
Dance run by Unicorn Ceilidhs
Friday 13 December 2019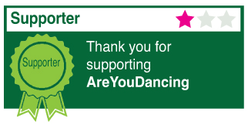 Regular public dances with live band & caller, with interval entertainment
Dance Styles: Barn Dance, English Ceilidh
Price: £10 adults, with concessions
Time: Doors open 7.30, dancing from 8.00 to 11.00 p.m.
Ticket Options: Pay on door
This month - Chalktown with caller Jane Bird.
Chalktown are an innovative dance band, with English folk meeting indie rock with a twist of modern jazz, producing music that is great for listening and irresistible for dancing. The band has a wealth of dance music experience with three ex-members of the legendary Gas Mark 5.
Jane has a clear, confident calling style, which she delivers with enthusiasm, a sense of humour and a real love for sharing dances with all dancers. She offers flexibility and a repertoire of dances that suits a wide range of tastes and experience. She is one of the most in demand callers in Oxfordshire and often works further afield. She is interested in inclusivity in dancing and engaging new dancers.
It's a barn dance - or is it a ceilidh? And what's that? A ceilidh (say kayley) is your chance to dance English traditional country dances with others. The caller describes all the moves (very simple) and the dancers walk through the whole dance once - then the band starts - and a great time is had by all ! Dance as vigorously or as sedately as you wish - and don't worry if you get it wrong. Most dances are for couples, but singles and groups are welcome. There's a break about 9.15 when we organise a dance display - generally Morris or similar - to entertain you, and a Raffle . See our website at www.unicornceilidhs.org.uk for all details
St Mary's Hall venue
New venue with better access and ventilation, and also slightly larger - more room to dance! The hall is NW of St Mary's Church within its grounds. No parking within the church grounds.
The hall is in the grounds of St Mary's Church, Baldock. Park as near as you like to the Old Town Hall - it's a 2 minute walk from there to the new venue. Parking on High Street or at the Twitchell Car Park, off Simpson Drive (with the library on the corner).
Address: Church Street Baldock Hertfordshire SG7 5AE
Show on Google Maps