Sunday SILC Freestlye @ TJS
Dance run by Ceroc Plus
Sunday 15 December 2019
In Past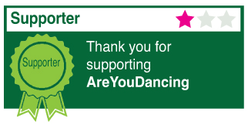 Sunday SILC Freestyle @ The Bell House, Alton
Dance Styles: Modern Jive, Blues Fusion, Smooth Modern Jive
Price: £10 on the door
Time: 2.30pm SILC taster class, 3.15pm - 6.00pm Freestlye
Music style
SILC is dance space dedicated to down-tempo rhythms and ambient music selected from RnB, Soul, Acoustic, Funk, Slo-House and Latino inspiration.
Don't dance SILC but enjoy dancing to this kind of music? You are very welcome, if your dancing is slotted then all is good :-)
Know your bpm's? The range for Silc is 90bpm to 115bpm, SILC is slower than Ceroc which generally sits between 115bpm and 135bpm.
The timings for the Sunday SILC freestyle will be...
2.30pm - Silc taster class
3.15pm until 6pm - Freestyle
Price - £10 on the door
Tea, sandwiches, cake and biscuits will be served all afternoon
The Joneses Studio (was The Bell House) venue
The Joneses Studio, formerly known as The Bell House) is owned by winning strictly professional Katya Jones and her husband Neil. It is a beautiful building that boasts a lovely dance floor as well as beautiful original features. It's owned by dancers and it's great for dancers, we love it!
The Bell House is behind Sainsburys (some sat navs take you to the front of Sainsburys).
The Bell House is on St Mary's Close which is off of Turk Street, it may be easier to find Turk Street on the Sat Nav.
Parking at the Bell House is behind the studio in their own car park and the neighbouring office car parks. Please note, we are told by the Bell House that the office car parks are not used at the weekend and that their customers use them for parking, however you park there at your own risk.
There are many other small car parks around the town. You can check them out here http://en.parkopedia.co.uk/parking/alton/
Address: St Mary's Close Alton Hampshire GU34 1EF
Show on Google Maps

Ceroc Plus organiser
Ceroc Plus. The fun, social, partner dance Ceroc in Fleet and Alton, Hampshire.
More information about Ceroc Plus including other forthcoming events