Planet Swing M.K.
Class run by Swingsters
Thursday 15 August 2019
In Past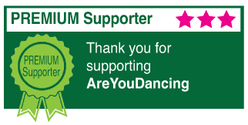 Swingsters High Quality weekly M.K. classes now in their fourth year
Dance Styles: Balboa, Collegiate Shag, Lindy Hop, Modern Jive, Rock n Roll
Price: £5 for one class | £10 for two classes
Time: 7:30pm -10:30pm
Ticket Options: Pay on door
Welcome to a whole new World of Swing Dancing at Planet Swing!
Now entering our fourth year teaching Swing in M.K. we've relocated our weekly classes somewhere easier to park!
With the emphasis on quality we have loads of fantastic Swing dance goodies to share from many different Swing dance styles including Lindy Hop, Balboa, Collegiate Shag, Blues and Boogie Woogie.
The venue is:
Planet Swing MK
The View on the Edge
Wolverton Road
Milton Keynes
MK14 5AH
7:30- 8:15pm Swing Beginners
8.30 - 9.15pm Swing Improvers
9.30 - 10:15pm Balboa Intermediates
10:15 - 10.30pm - Freestyle
Price Structure: 1 class £5 | 2 classes £10
See you there - it's out of this World!
Mike & Mel
Exercise - Socialise - Energise
Tel: 07956-366449
email: dance@swingsters.co.uk
www.swingsters.co.uk
Planet Swing M.K. venue
Beautiful lake views
Gorgeous wooden floor ,plenty of free parking and
a well stocked bar!
Turn off Wolverton Road
Address: The View at the Waters Edge Wolverton Road Milton Keynes MK14 5AH Milton Keynes Milton Keynes MK14 5AH
Show on Google Maps

Swingsters organiser
Lindy Hop Swing Jive Charleston Balboa Blues Boogie Woogie Collegiate Shag Authentic Jazz
More information about Swingsters including other forthcoming events