Glass House Jive Night
Class run by Canterbury Jive
Wednesday 23 October 2019
In Past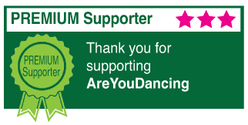 Easy drop-in classes in 1940's/50's style Jive.
Dance Styles: 1940s Jive, Rock n Roll
Price: £6/£5 Reduced
Time: 7.30-9pm
Ticket Options: Pay on door
Weekly Wednesday Night Beginner's Jive Class
Learn the basics of this fun swing dance from the 1940s and 50s quickly and easily! Short and friendly dance classes taught in a relaxed way you can join any week, with one-to-one advice to help you learn at your own pace. Beginners means beginners, if you've never danced before this is the class for you!
No need to come with a partner. Wear loose comfortable clothing and shoes that don't grip the floor too much, be sure to stay hydrated and check with your GP if you have any medical concerns. You will be dancing with partners so please remember personal hygiene.
Per class: £6/£5 reduced
Venue details:
info@the-glass-house.co.uk
01233 665377
Class details:
revboogie@hotmail.co.uk
or text 07540 080224

Canterbury Jive organiser
Jive and other swing dance classes and events in and around Canterbury and guest work elsewhere
More information about Canterbury Jive including other forthcoming events