LeRoc Surrey Modern Jive @ Ashtead
Class run by LeRoc Surrey (The Jive In Dance Co)
Tuesday 21 July 2020
In Past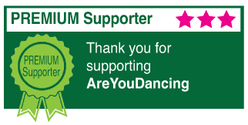 This event has been Cancelled
LeRoc Modern Jive & Smooth Classes & Freestyle Ashtead Hall
Dance Styles: Leroc, Modern Jive, Smooth Modern Jive
Price: Members £9, Others £10, from 9.15pm £7/8(excludes specials)
Time: 7.30-10.45pm
Ticket Options: Pay on door
Weekly Tuesday night venue
"Fun, Socialising & Dance!
Learn new moves & dance the night away
excellent teachers & some exceptional guest teachers
Enjoy the dance practice/freestyle sessions
free parking
Free water & soft drinks
Doors open 7.30pm
Beginners Welcome Every Week.
New Beginners offer "£10 for any three Tuesday nights" package when doing the beginners classes
No need to book, no need for a partner/friend, just turn up!
7.55-8.30pm BEGINNER'S CLASS
Every night join other recent or complete beginners. 30 minute class where you will learn 3/4 Beginners moves.
FREESTYLE
Here you can either take a breather with our short break where where the music plays & is a great opportunity to practice the moves you have just learnt.
8.45-9.10pm CONSOLIDATION BEGINNERS SESSION
Takes place same time as the Intermediate class this is a great opportunity to go through the same moves you have just learnt a second time.
8.45-9.20pm INTERMEDIATE CLASS
After generally around 6-8 weeks after you first beginner classes, you can move up to the next class where you will learn up to 3-4 harder moves.
9.45-10pm Intermediates Dance Clinic - Intermediates class small group.
FREESTYLE 9.20- 10.45pm
After the classes have ended, your night out really starts when the DJ freestyle session. Pure uninterrupted dance where you can improve your LeRoc style & soak up the atmosphere!
Freestyle only options £6/7
Covers both sessions, no classes.
www.leroc.dance

Ashtead Peace Memorial Hall venue
Come and dance
Excellent guest teachers
check web site for our latest information
www.leroc.dance
Just 100 metres off A24 which runs from Leatherhead to Epsom.
Turn off where signs are on Lamppost in Ashtead between Brewrey Inn and Ashtead Kebah house.
Address: Woodfield Lane, Ashtead Ashtead Surrey KT21 2BE
Show on Google Maps