Serene Dance Class Nights
Class run by Serene Dance
Tuesday 22 October 2019
In Past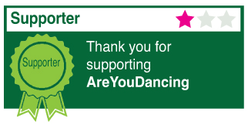 Serene Dance brings smooth modern jive classes to Maidenhead in Berkshire every Tuesday.
Dance Styles: Smooth Modern Jive
Price: On the door price £9, seniors and students £7, entry after 9:30pm £6
Time: 8pm-11pm
Ticket Options: Pay on door
Serene Dance are running a weekly Modern Jive dance class on a Tuesday in Maidenhead.
What is modern jive?
Modern Jive is a dance a fun style with little footwork, easy to learn and also adapts to other styles such as Lindy Hop, West Coast Swing and Salsa. Modern Jive was created in the 80's and has grown massively over the years. Modern jive is also known as Leroc, Ceroc and Le Bop.
About Our Classes:
Our classes are aimed to teach you Modern Jive but with a more personal and in depth touch. We will cover a selection of moves but also show you how to adapt to different tempos, help with technique and also musicality.
Serene Dance is very well known for more of your chill out, expressive and funky tracks on our Sunday events and we would like to show how you can dance to these anywhere you go.
No need to bring a partner, you can come along on your own or brings some friends. Dancing is not just a class but a very social night also.
Class Schedule;
7:45pm Doors open
8:00pm Beginners class
8:30pm Freestyle and practice
8:45pm Intermediate class + beginners review
9:30pm Serene Style Freestyle
11:00pm Finish
Free water and fully licensed bar
Free Parking
Complimentary tea/coffee and biscuit's
For more information
Mobile: 07824774604 / 07979106289
Email: serenedance@yahoo.com
Web: www.serenedance.com
Birds Hill Golf Club venue
Your monthly Serene Sunday provides an afternoon with a chilled out vibe.
Held at the wonderful Baronial Hall, Birds Hill Golf Club Maidenhead.
4 hours of non stop music to dance to, fully licensed bar, complimentary tea/coffee and could not be the same without a selection of cakes and biscuits just to keep that extra energy up on the dancefloor.
Ample free parking on site.
Your DJ's for the event will be Matt Cox and Jo Mortimer catering a smooth chilled out vibe that you will not forget.
Catering for your smooth modern jivers, expressive and west coast swing dancers.
Birds Hill Golf Club
Drift Road
Hawthorne Hill
Maidenhead
SL6 3ST
Admission is £10 on the door, No tickets needed just turn up. :)
Address: Birds Hill Golf Club Drift Road Hawthorne Hill Maidenhead SL6 3ST Maidenhead Berkshire SL63ST
Show on Google Maps