Shirley's RR Just for Kicks live!
Dance run by Swingsters
Friday 30 August 2019
In Past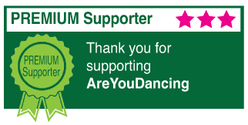 With the brilliant 'Just for Kicks'!
Dance Styles: Jive (Ballroom), Lindy Hop, Modern Jive, Rock n Roll
Price: Dance class @ 7:30pm £5 - Band nights £12 - DJ nights £10
Time: 7:30-11:30pm
Ticket Options: Pay on door
Just for Kicks - brought the house down @ Bricket Wood earlier in the year!
We welcome one of the hardest working Rock n Roll bands on the circuit - 'Just for Kicks'
Just for Kicks are a superb five-piece band that play classic rock 'n' roll hits from the '50s and '60s.
Just for Kicks we will be keeping us swinging on the dance floor all night out to good old Rock 'n' Roll & Jump Jive to music from the likes of our favourites, Elvis Presley, Buddy Holly, Eddie Cochran, Bill Haley, Chuck Berry, Little Richard, Fats Domino and many more classic Rock 'n' Roll hits.!
Shirleys Rockin' Roadhouse is where all the Hep Cats & Kittens go to cut a rug on a Friday night.
Home to vintage music, dancing & bands.
House DJ Mick the Knave and Guest DJ Pat da Kat will be bringing you the best Swingin' sounds from the 1940's & 50's, Jump Jive, Rockin' Rhythm & Blues, Jump Blues & Rock 'n Roll.
Before each event come along at 7.30pm when Mike & Mel will teach a fun beginners dance class, £5 – guaranteed to get you Rockin' on the dance floor.
The venue has easy access from the M25 and M1.
Delicious home cooked food served all day, come early and eat.
Bacon Baps available at 11pm
Licensed Bar
Car Park
Entrance:
Dance Class £ 5
Record Hop £10
Band night £12
Looking forward to seeing you on the dance floor.
Mike & Mel …….. & Shirley
Shirleys Rockin Roadhouse venue
Free Car Park
Address: Broadlakes Lodge Social Club Shenley Lane London Colney St Albans Hertfordshire AL2 1DQ
Show on Google Maps

Swingsters organiser
Lindy Hop Swing Jive Charleston Balboa Blues Boogie Woogie Collegiate Shag Authentic Jazz
More information about Swingsters including other forthcoming events