NEW – Absolute beginners
Class run by Dance with Joy
Thursday 24 October 2019
In Past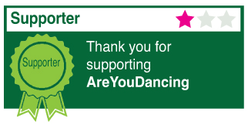 NEW – Absolute Beginners - Learn to Dance Ballroom & Latin and popular sequence.
Dance Styles: Cha Cha Cha (Ballroom), Foxtrot, Jive (Ballroom), Modern Tango, Quickstep, Rumba, Popular Sequence, Waltz, Modern Sequence
Price: £6.00 per person
Time: 6.45 to 7.45 p.m. Thursdays from 3rdJanuary, 2019
Ticket Options: Not yet specified
NEW – ABSOLUTE BEGINNERS LEARN TO DANCE Ballroom & Latin and popular sequence If you love 'Strictly' you will love learning to dance. Our beginners course will have you dancing to Waltz, Tango, Foxtrot, Cha Cha Cha, Rumba, Jive and lots more....
Our beginners course covers the basics of ballroom and latin dances such as Waltz and Quickstep, Rumba and Cha Cha Cha, plus we throw in two or three sequence dances in too so if you go to a social dance you will be able to get up and join in.
Want to dance for your holidays or going on a special cruise?? Now's the time to get started.
Dancing is a great way to get fit, learn a new skill and meet new friends.
What's more dancing is FUN!!
Once you can dance you can dance forever.... give yourselves a night off from the telly, get the babysitter in and come along to Lydiate Parish Hall. Beginners class starts at 6.45 p.m. and is £5.00 per person.
Dance with JOY
Martin and Bev - A(UKA)
Lydiate Parish Hall venue
Address: Southport Road, Lydiate Lydiate Merseyside L31 4EQ
Show on Google Maps