Improvers Class
Class run by Dance Days
Friday 06 December 2019
In Past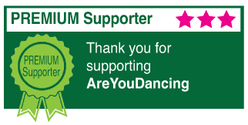 Improvers Class
Dance Styles: Cha Cha Cha (Ballroom), Foxtrot, Jive (Ballroom), Modern Tango, Paso Doble, Quickstep, Rumba, Samba, Waltz
Price: £6 Pay as you go
Time: 7:30 to 8:30 pm
Our Class is from 7:30 to 8:30 pm.
8:30 to 9:00 pm we have a practice session to allow you to practice what you have learned in the class. You are welcome to practice or stop and have a cup of tea and a biscuit or two
You do not need a partner to join our classes and we change partners regularly during the classes so that everyone gets to dance.
Please call before coming to this class
Ballroom Dances
Waltz, Quickstep, Tango, Foxtrot
Latin Dances
Rumba, Cha Cha, Samba, Jive, Paso Doble