Swing Thing Lindy Hop Classes
Class run by Swing Thing Monmouthshire
Tuesday 19 November 2019
In Past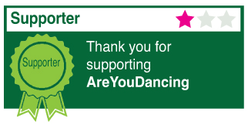 Learn The Lindy Hop - It's The Real Swing!
Dance Styles: Charleston, Jazz Steps, Lindy Hop
Price: £6 For 1 Lesson (Beginners or Advanced) £8 For 2 (Both Beginners and Advanced)
Time: 19:00 - 21:15
Ticket Options: Pay on door
Our new term of lessons will recommence on TUESDAY 17TH SEPTEMBER.
Never danced before and want to try something new? Want to meet new people? Already dance and want to learn new moves and improve technique? Then come and join Alice and Ger and a whole host of wonderful dancers who meet every Tuesday in Monmouth.
Weekly Swing Dance lessons are held every Tuesday evening at Hamersley Hall, Hereford Rd, Monmouth, NP25 5XT.
Beginners Lesson 7pm - 8pm
Break 8pm - 8:15pm
Advanced Lesson 8:15pm - 9:15pm
Free refreshments are provided during the break and music will be playing for you to social dance, if you wish.
The start of every Advanced Lesson begins with the teaching of a Solo Jazz Step. Even if you aren't planning on attending the Advanced lesson, you are more than welcome to join in with learning the Solo Jazz Step.
Lessons are paid for on a 'pay as you go' basis so there is no need to book blocks of sessions or prepay. It also doesn't matter if you can't attend every week, just come when you can!
Partner not necessary.
Clothing and Footwear
Clothing - Wear whatever you feel comfortable wearing!
Footwear - Ideally, shoes with little grip/tread is the best for moving around the floor. Shoes with rubber soles (trainers, etc.) make it much harder work to glide around!
Keep your eyes peeled for our regular local Social Dances, which we host, to put all your hard work in lessons to good use on the social floor!
Hamersley Hall venue
The driveway leading to Hamersley Hall is on the right hand side of the building signposted 'St Catherine's', which is on the left hand side of the Hereford Road if you are heading up the hill.
You can park either on the Hereford Road or in the car park which is on the right hand side at the bottom of the drive as you enter the main school gates on the opposite side of the Hereford Road. There is also limited parking next to Hamersley Hall.
Walk up the Hereford Road from the Haberdashers' Girls' School car park and go through the gap between St. Catherine's and the Art & Technology Building to find Hamersley Hall situated behind.
Address: Hereford Road Monmouth Monmouthshire NP25 5XT
Show on Google Maps