Sunday Ballroom and Latin Class
Class run by Zoltanz
Sunday 24 November 2019
In Past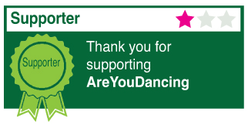 Sunday Ballroom and Latin Class In Westminster
Dance Styles: Cha Cha Cha (Ballroom), Foxtrot, Jive (Ballroom), Modern Tango, Quickstep, Rumba, Samba, Viennese Waltz, Waltz
Price: £17
Time: 18:15-20:30
Ticket Options: Pay on door
Enhance your Sunday evenings with a unique Latin and Ballroom experience. Whether you are just starting out as a beginner or already have a good knowledge of dance, come and dance the evening away and leave an invigorated and much improved dancer.
Our classes will be taught by experienced male and female professional dancers who will not only teach Latin and Ballroom steps and routines but will also focus on technique, footwork, hip action, posture, arm styling, musicality and balance. Attention will be paid to both leaders and followers.
Our teachers are extremely patient as well as being thorough and will make you quickly feel at ease if you have not danced before. If you are already a dancer they will work hard to help you improve as an individual and enhance your technique and dance quality.
Our teachers include Zoltán Szalontay and Oana Rotariu
https://youtu.be/Wf5y-ayhdLQ
The classes will start with 45 minutes of Ballroom, followed by a refreshment break during which time you will able to chat to the instructors and get to know the other participants. We will follow on with 45 minutes of Latin.
The dances that we will focus on will be Waltz, Tango, Foxtrot, Quickstep, Cha Cha, Rumba, Samba and Jive.
We work in three weekly cycles and work on two dances (1 ballroom and 1 Latin) for 3 weeks
Our classes will cost £17 which covers the 1,5 hour of dancing, where you'll learn a short routine and you'll focus on the technical aspects
Step by me dance studio venue
Address: Step By Me Dance Studio SW1P 2BQ, Monck street, Ashley house 3, Unit 2 Westminster SW1P 2BQ
Show on Google Maps
Zoltanz organiser
Ballroom and Latin group classes with dedicated male and female instructors In Westminster
More information about Zoltanz including other forthcoming events