Winter Swing Dance - Live Band!
Dance run by Gloster Swing Dance
Saturday 29 February 2020
In Past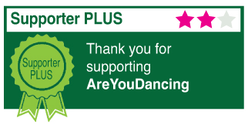 Winter Warmer Swing Dance with Amy Baker and The Rhythm Sisters - LIVE BAND!
Dance Styles: 1940s Jive, Balboa, Blues, Boogie Woogie, Charleston, Collegiate Shag, Jazz Steps, Leroc, Lindy Hop, Modern Jive, Rock n Roll
Price: £12 In Advance (Limited Tickets on the door)
Time: 7.30pm to 11.00pm
Ticket Options: Ticket Recommended (Pay on door if places available)
We have the last few tickets available on the door for tonight's dance.
If you come we promise not to turn you away!
See you later!
16th Annual 'Winter Warmer Swing Dance'
Amy Baker & The Rhythm Sisters (All Girl Band)
DJ 'The Duke'
Walls Sports and Social Club, Hammond way, Barnwood, GL4 3YL
7:30pm till 11:30pm
Amy and her swinging girl band bring you a night of swing dance tunes at Gloucester Swing Dance!
Tickets just £12 (Available now)
From Classes and Dances
£13.50 on-line for website
www.glosterswingdance.co.uk/tickets
Amy Baker...........
My sister had decided to put on her own vintage fair (Mum's love for vintage had rubbed off on us both). She asked me to sing at the event and i eagerly went away and planned a set list.
My performance was greatly received and i was approached to sing for a 1940's book signing at Goodwood.
Before i knew it work was coming in regularly, so much so that i was able to leave my job and become a full time singer, something that i never dreamed would happen!
Walls Social Club, Gloucester venue
Huge Dance Floor in Main Ballroom
Licenced bar
Parking on site
Easy To Find
POSTCODE TO USE WHEN VISITING US IS GL4 3YL
Just in case your Google map doesn't work - here are some directions
From the Wall's roundabout heading towards Hucclecote take the 1st main turning on the left, opposite Wotton Hall and the Post Office.
From Brockworth and Hucclecote come down Barnwood Road, go past Barnwood Avenue on the left and we are the turning on the right, opposite Wotton Hall and the Post Office.
Drive down to the end of Hammond Way and you will find our car park and the Club.
Address: Walls Social Club, Hammond Way, Barnwood Gloucester Gloucestershire GL4 3HG
Show on Google Maps