Vibejive - Holmfirth
Class run by VibeJive - modern jive
Wednesday 11 December 2019
In Past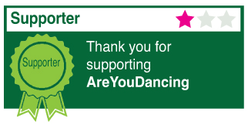 Modern jive, fun and friendly club run by members
Dance Styles: Modern Jive
Price: £5.00, £3 after 9.30
Time: every Wednesday 7:45pm - 10.15pm
Weekly fun class with a variety of teachers throughout the month. beginners welcome no partner needed.
checkout our website: www.vibejve.co.uk
Holmfirth Civic Hall venue
Main Hall in the Civic Hall with good dance floor and stage. Excellent parking in Co-op car park closeby.
Approaching Holmfirth from Huddersfield on the A6024, Holmfirth Civic Hall can be found on the right hand side, opposite the Postcard Inn.
Address: Huddersfield Road, Holmfirth West Yorkshire HD9 3AS
Show on Google Maps