FCDS Beginners First Steps Class
Class run by First Class Dance School
Sunday 22 September 2019
In Past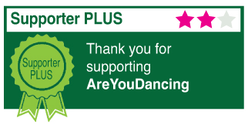 7pm First Steps Beginner's Class in Ballroom & Latin Dance
Dance Styles: American Smooth, Cha Cha Cha (Ballroom), Foxtrot, Jive (Ballroom), Modern Tango, Old Time Dancing, Paso Doble, Quickstep, Rumba, Samba, Popular Sequence, Viennese Waltz, Waltz, Modern Sequence
Price: £30 for 6 weeks - or £6 per Class
Time: 7pm Beginners
Ticket Options: Pay on door
Our First Steps Beginner's Class starts you off on your journey of Ballroom & Latin Dance
We've structured the classes into 6 week terms, to provide a more effective way of teaching, by encouraging students to attend consistently thus enabling the class as a whole to make steady but sure progression throughout the year.
As an offering in return the school is offering a discount, by purchasing a 6 week term for £25, effectively your getting 1 week free, (at the previous fee of £5/week)
Each term we will be teaching the basic steps to 3 dances, for example week 1&2 Waltz, 3&4 Rumba, 4&5 Cha Cha Cha
Enrol for the next term to continue your journey of dance starting 18th February.
At the end of the year you can then progress to the NEXT STEPS SOCIAL Class where we prepare you for Social Dancing.
All information is on our Website - please visit every week for updates and Bookmark or Save the Website to your Favourites Bar.
See our testimonials on the website.
Thank you for your interest in First Class Dance School
See you soon
https://www.ballroomlatindance.uk/
:-)
Loders Village Hall venue
Hall Directions: Entering the village from the west, via Bradpole, about 100 metres past the Church turn left between two houses, there is a sign on the right hand side of the road. Entering fron the east; go past the School and just beyond the Loders Arms turn right between two houses. There is a sign post on the left hand side of the road.
Parking:
Dedicated parking space for approx 50 cars
Lighting:
Outside and Porch lighting
Facilities:
Ladies, Gents and Disabled Toilets
Local Pub nearby:
The Loders Arms
Photos of the hall on the website
www.ballroomlatindance.uk
Address: New Street Lane (see description for details) Bridport Dorset DT6 3SA
Show on Google Maps