Smooth Slotted Modern Jive
Class run by CurlyWurlyEvents Ltd
Wednesday 20 November 2019
In Past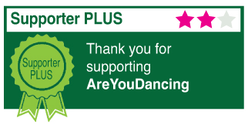 Smoth Slotted Modern Jive with a No Pull No Push Technique
Dance Styles: Modern Jive, Smooth Modern Jive
Price: £8
Time: 7:30 Beginners and 9pm Intermediate with sovial dancing until 10:30
Ticket Options: Pay on door
A modern Jive class specialising in smooth slotted jive taught by Lisa Graydon of CurlyWurlyEvents. Lisa has over 10 years teaching experience and is well kmown for her emphasis on building quality techniques to enable dancers to progress well. She is also well respected for her Blues tuition and a great sense of style and musicality.. Beginner and Intermediate classes will take place and each will focus on the best possible techniques so that you reach your true potential as a dancer. Classes start at 7:30 with plenty of time for practice.
Chadderton Town Hall venue
Parking to the side of the Building. The Hall is upstairs, please use the main entrance.
Address: Garforth Street, Chadderton, Oldham Oldham Greater Manchester OL9 6PY
Show on Google Maps