Upbeat Swing @ Kim Frost SoD
Class run by Upbeat Swing Dance - South Yorkshire
Wednesday 20 November 2019
In Past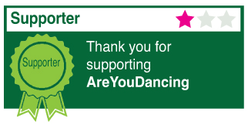 Adult swing dance classes bringing Lindy hop, Charleston, and more to central Barnsley!
Dance Styles: Charleston, Jazz Steps, Lindy Hop
Price: £5 per person for one class, £7 for two.
Time: Beginners' class starts at 7:30 pm
Ticket Options: Pay on door
Upbeat Swing Dance is Barnsley's swing dance community. Made up of dancers spanning the age range 16 to 60+ with a shared passion for all sorts of swing dance.
We focus on Lindy Hop, with a bit of Charleston and the odd stroll. It is suitable for complete beginners and more experienced dancers alike.
You don't need to bring a dance partner, as we will find you one and rotate regularly - that's the Lindy Hop way!
It's a sociable, low-pressure lesson which aims to be fun and equip you with the freestyle skills to step out wherever and whenever you catch a swinging beat!
With classes costing just £5 each and your first FREE, what do you have to lose?!
Kim Frost School of Dance venue
An established dance school in central Barnsley, just a few minutes' walk from Barnsley Interchange, with parking for up to 40 cars in an enclosed car park.
From Barnsley Interchange walk east down Kendray Street. Turn left at Clyde Street and the dance school car park is immediately on your right.
Address: Kim Frost School Of Dance Archway House Langdale Rd Barnsley Barnsley Barnsley S71 1AQ
Show on Google Maps