Virtually BalBreak
Weekend run by Dance Balboa
Friday 11 September 2020 - Sunday 13 September 2020
Online
In Past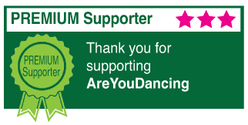 An online weekend of Balboa with top international teachers for just £20!
Dance Styles: Balboa
Price: £20
Time: Friday 3pm until Sunday 6pm
Ticket Options: Ticket Only (Prebooking essential)
Online Details: https://virtually.balbreak.co.uk/info-schedule/
Instead of our normal residential BalBreak we bring you a virtual weekend of Balboa with a superb line-up of the very best world class teachers:
Nick Williams and Sylvia Sykes
Bobby White and Annabel Quisao
At least 8 hours of virtual classes over the weekend, together with other fun sessions such as an interview with Sylvia, a Balboa history talk from Bobby, a JitterBlast dance fitness class with Nick, footwork/styling from Annabel. More ideas are shaping up nicely :-).
Something for everyone who loves Balboa so please join us
Unbelievable value at just £20 and all your contribution will go to the teachers
** Our usual residential BalBreak.... **
Sipping Bucks Fizz and nibbling canapes on a balmy late summer's evening at our pre-dinner party on the terrace with spectacular views over the bay. Staying in a lovely hotel right on the water's edge, with superb food and comfy accommodation.
So relaxing with everything under one roof and great to catch up with friends from across the UK and far flung parts of the globe...
Plus inspirational classes from the world's finest Balboa teachers, and where the DJs and band are so good that you just can't sit down...
8 hours of workshops, 3 dances including Sunday tea dance
All this included in the price
 
This is the life… Wish you were here?
For more information as well as photos from previous events, please see www.balbreak.co.uk
We hope you will be able to join us.
Martyn, Sue, Tony and Anna