Virtually All Slow Bal Weekend
Weekend run by Dance Balboa
Friday 23 October 2020 - Sunday 25 October 2020
Online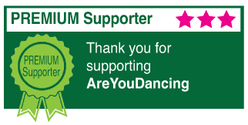 An online weekend of Balboa with top international teachers for just £20!
Dance Styles: Balboa
Price: £20 per person
Time: Friday 3pm until Sunday 6:30pm
Ticket Options: Ticket Only (Prebooking essential)
Online Details: https://virtuallyslowbal.dancebalboa.co.uk/info-schedule/
An online weekend of world class Slow Balboa tuition
Instead of our normal residential All Slow Bal weekend, we bring you 8 hours of online workshops with top international teachers Jacob Wigger and Shani Brown. We had such glowing reviews from our 2019 weekend we just had to invite them back :-)
There will also be other fun sessions such as an interview with Shani. Over 15 years, Shani has social danced and spent time honing her slow bal and pure bal skills with Dean Raftery, whose Slow Bal dancing forms the very roots of the dance we know and love today.
There will be something for all levels, so if you have not yet experienced Slow Bal, this will be an ideal opportunity to find out more and to learn from the very best.
Unbelievable value at just £20 and all your contribution will go to the teachers
** Our usual residential All Slow Bal weekend.... **
Staying in a lovely hotel right on the water's edge, with spectacular views over the bay. Superb food and comfy accommodation.
So relaxing with everything under one roof and great to catch up with friends from across the UK and far flung parts of the globe...
Plus inspirational classes from the world's finest Balboa teachers, at least 8 hours, plus Friday and Saturday evening dances, and a tea dance with cakes.
Please contact us if you would like to be added to our mailing list to hear about our other Slow Bal and Balboa dance weekends.