Move Better, Dance Better
Class run by Moving Experience
Thursday 28 November 2019
In Past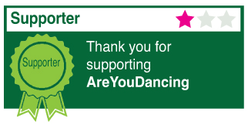 Move & dance better with Feldenkrais Awareness Through Movement classes!
Dance Styles: Argentine Tango, Lindy Hop, West Coast Swing
Price: Drop in on a Thursday = £15. Booking required to avoid disappointment.
Time: 7.30-9 pm
Ticket Options: Ticket Recommended (Pay on door if places available)
Bärbel Rücker, certified Feldenkrais practitioner is offering Feldenkrais Awareness Through Movement (ATM) lessons to get rid of the aches and pains from your daily life. These are not specific dance classes but they will definitely help your dance.
This has been already proofed at Tango Feast Spring 2019 & the Christmas edition 2018.
Join us for this eyeopener class. No former Feldenkrais experience needed. No partner needed. Bring your curiosity and some thick socks when we will investigate what YOU can do to make your body work smoother than before. These classes are non-strenuous and suitable for all ages.
PRICING
. SEPTEMBER : 4 dates x 11 GBP = 44 GBP
. OCTOBER : 5 dates x 11 GBP = 55 GBP
. NOVEMBER/DECEMBER : 5 dates x 11 GBP = 55 GBP
Drop in on the day = 15 GBP
How does The Feldenkrais Method works?
The Feldenkrais Method® lets you experience your own potential by exploring your body through gentle movements. You can improve your movements and (re)gain comfort and ease.
Read more about Feldenkrais : http://www.movingexperience.eu/feldenkrais/.
Bärbel Rücker - Moving Experience
Website - www.movingexperience.eu
FB page - Moving Experience
FB page - Tango DJ Bärbel Rücker
Function Room @ Taurus Crafts venue
FREE parking on site.
Address: The Old Park Forest of Dean Lydney GL15 6BU Gloucestershire Lydney Monmouthshire GL15 6BU
Show on Google Maps