Just Jive Tetbury
Dance run by Just Jive Lindy Hop
Friday 22 November 2019
In Past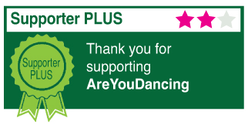 Social dance Swing Jive, Lindy Hop, Shag, Balboa etc
Dance Styles: 1940s Jive, Balboa, Charleston, Collegiate Shag, Jazz Steps, Lindy Hop, Modern Jive
Price: £8.00
Time: 7.009m - 10.00pm
Ticket Options: Pay on door
This is a beautiful venue.Lovingly restored to its former glory. If you love nostalgia this is the event for you.Superb dance floor and full of vintage charm. There is a fully licenced bar. Do not bring your own drinks.
Large on site fully lit car park.
The Tetbury Goods Shed. venue
This beautifully renovated goods shed has a large car park on site. No bar please bring your own soft drinks.
We will be teaching beginners level this term, however, we will include intermediate level in January 2018.
Improve your social life and at the same time boost your self-confidence! You get to meet new people. Get fit without feeling you are exercising. It's great fun!!!
Never danced before? The best place to start is in a beginners class.
The atmosphere is relaxed and friendly and everything is done in a humorous manner with the emphasis on fun.
Everything taught step by step, all at a nice steady pace. The classes will be working on lead and follow whilst building confidence so that you can get your steps together and dance with style.
Address: 31,Gumstool Hill,Tetbury, Tetbury Gloucestershire GL8 8DG
Show on Google Maps