Intermediates TangoClass & Practice
Class run by Tango Boulevard
Tuesday 10 December 2019
In Past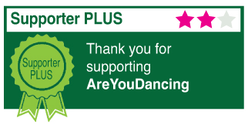 Argentine Tango group class for intermediates and above
Dance Styles: Argentine Tango, Salon Tango, Milonga, Tango Vals, Tango Fusion
Price: £8 or Membership £6
Time: 8:30 - 10:30
Ticket Options: Pay on door
The MK Dance Centre, 132 Newport Rd. MK13 0AA
FREE parking to the rear through arch & outside venue additional St. parking on Church St & Glyn St opp.
Our Tango Style taught will lean towards a traditional Argentine Tango, in the Salon style. Occasionally we will look at a more Nuevo influence within the dance. This is NOT BALLROOM Argentine tango, this is the authentic tango danced socially in Argentina.
Tuesday Class Times
8.30pm - 9.30pm Intermediates & above
9.30pm - 10:30pm Practice / Dance Time ALL LEVELS
Levels:
Please check with the teacher as to which level will be suitable for you.
BEGINNER: learning the Basic concept of tango and form. Level 1
IMPROVER: Knowledge of basic form working on connection and vocabulary. Levels 2 & 3
INTERMEDIATE: understanding the technical elements, with sufficient vocabulary to improvise to a variety of music style usually have been dancing the tango regularly for over a year. Levels 4,5 & 6
Costs:
£8 Standard Entry (Class & Dance)
£6 Membership Entry
£4 for Dance Only (After 9:30pm)
Refreshments Inc.
Membership:
TangoBoulevard MK Membership allows you to sign up for our 6 week tango programme for just £36 (Saving you £12 if you pay on a week-by-week basis) Membership is payable upfront at the beginning of each respective programme. Each lesson is a stand-alone concept. its ok to miss out a lesson in the programme as concepts will be repeated in future lessons.
MK Dance Centre venue
Purpose built ballrooms & Dance studios with lovely dance floors and facilities. FREE car park at rear or street parking outside & Church St. & Glyn St. Only 5 min drive from MK town centre.
FREE street parking outside & Church St. & Glyn St.
Fantastic purpose built dance floors and venue.
Address: 132 Newport Rd, New Bradwell Milton Keynes MK13 0AA
Show on Google Maps