Jiveasy Wild Wednesday Freestyle
Dance run by Jiveasy
Wednesday 22 July 2020
In Past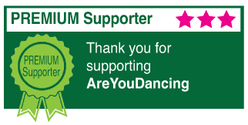 Jiveasy 'Wild Wednesday' Freestyle night
Dance Styles: Leroc, Modern Jive, Smooth Modern Jive
Price: £5
Time: 19.45 to 11.00
Jiveasy is our brand of modern jive - one of the UK's fastest growing and most popular partner dances. Modern Jive is a dance style derived from swing, ballroom, tango, salsa, jive and anything else that fits pop music, current or classic!.
It's a fun, easy and relaxed and a healthy way to keep fit and make new friends. You'll be dancing right from your first lesson. The teaching format ensures that everyone is up dancing and taking part. There's no need to book, beginners turn up every week. Come alone or with friends, there's a great social atmosphere.
We have a Beginner Class at 8pm & Optional beginner coaching session at 9pm. No Intermediate Class on 'Wild Wednesdays' and so we have Freestyle dancing from 8.45 until 11pm.
£5 ENTRY!
The Fishbourne Centre venue
Address: The Fishbourne Centre, Blackboy Lane, Fishbourne, Chichester, West Sussex, PO18 8BE Chichester Sussex PO18 8BE
Show on Google Maps

Jiveasy organiser
Modern Jive Classes and Freestyle Dances Nr. Portsmouth and Chichester
More information about Jiveasy including other forthcoming events