Beginners Ballroom & Latin Dancing
Class run by New Vision Dance
Tuesday 07 April 2020
In Past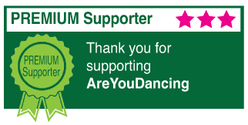 Beginners Class in Ballroom & Latin Dancing
Dance Styles: Cha Cha Cha (Ballroom), Foxtrot, Jive (Ballroom), Modern Tango, Quickstep, Rumba, Samba, Waltz
Price: £16 per couple
Time: Tuesday 7.30 to 8.30 p.m.
Ticket Options: Pay on door
New Beginners Class in Ballroom and Latin Dancing at Marlow:
Time: Tuesdays, 7.30 p.m.
Venue: Main Hall, Pugin Rooms, St Peters RC Church, Marlow
Classes cost £8 per week. The class is suitable for beginners, with or without two left feet, who have learned a few steps in the Waltz, Social Foxtrot, Cha Cha & Jive. Our aim is to teach people to dance, rather than lots of complicated routines.
Please contact us for more details or if you would like to join any of our classes.
If you are interested in attending any of our classes, or would like to know more, we can be contacted by email (newvisiondance@gmail.com) and phone 07980951544 or 07805615909
newvisiondance.wordpress.com
Pugin Rooms Marlow venue
Wooden floor, good car parking facilities
From High Street, Marlow, Going towards the Bridge, Turn Left at Burger's into Station Road. Take the first Right (after about 50 metres) into St Peter Street. You will see a gap in a stone wall. Turn in here – it's the entrance to St Peter's church and the Car Park is inside (there are notices on the wall saying "Private Car Park" and "Parking for Church Properties and Contract Parkers Only"). This is the entrance and the exit for the car park, please park in the bays at end of car park – you may not park between the Church and the Church Halls.
Alternative directions to avoid High Street, travelling from direction of Bourne End:
From direction of Bourne End, drive towards Marlow along Little Marlow Road. Just before reaching Marlow, turn left into G
Address: St Peter's RC Church, Marlow 7 St Peter St Marlow Buckinghamshire SL7 1NQ
Show on Google Maps