New Year's Eve Ceilidh
Dance run by Ryburn 3 Step
Tuesday 31 December 2019
In Past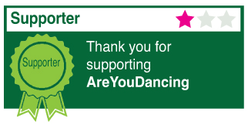 Annual dance to see in the New Year with The Black Box Big Band and caller Pete Coe
Dance Styles: English Ceilidh
Price: TBA
Time: 8pm - 12:15
Ticket Options: Ticket Only (Prebooking essential)
The Ryburn 3 Step annual New Year's Eve Ceilidh takes place in the Waring Green Community Centre on Garden Road, Brighouse HD6 2AX. Tickets prices are TBA and this popular event is often oversubscribed. You can buy your tickets direct from Ryburn 3 Step if you attend one of the monthly Ryburn Barn Dances at Waring Green Community Centre or by contacting Sue Coe to reserve and pay for tickets in advance.
Sue's contact details are: phone 01422 822569, email pete@petecoe.co.uk, or by mail 103 Oldham Road, Ripponden, HX6 4EB.
Pete Coe will guide you through the dances and the Black Box Big Band will provide the music.
These dances are friendly and informal and a great way to close the old year and welcome the New Year. Bring your own refreshments and some change for the raffle.
Waring Green Community Centre, Brighouse venue
Waring Green Community Centre has a large, sprung dance floor and is fully accessible.
From any part of Brighouse, follow signs for Bradford and you should pass Tesco's Supermarket, prominent by a complex island. Still heading for Bradford, go up the road at the side of The Ritz Dancehall. Waring Green Community Centre is on the crossroads at the top of the hill.
Address: Garden Road, Brighouse. Entrance on Marion Street Brighouse West Yorkshire HD6 2AX
Show on Google Maps
Ryburn 3 Step organiser
Ryburn 3 Step runs regular barn dances, Appalachian Step Classes and a Longsword Team
More information about Ryburn 3 Step including other forthcoming events