IDW's Xmas Party with Live Music!
Special run by Island Dance Wizards
Friday 13 December 2019
In Past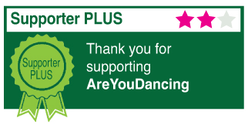 An Xmas Party Evening of Live Music & Dancing hosted by IDW with Music from The Cool! :)
Dance Styles: 1940s Jive, Blues, Leroc, Modern Jive, Rock n Roll, Contemporary Blues, Traditional (USA) Blues, Blues Fusion, Smooth Modern Jive
Price: FREE - but please bring a Sharing Plate of Festive Goodies to add to the Fun
Time: The evening starts at eight, so don't be late!!
Ticket Options: Free Event
Following the huge success of our October Blues Evening at Bar 74, we are very excited to welcome back Island Dance Wizards for a special Xmas Party with dancing to Live Music, hosted by the fabulous Mandy and Basil.
This evening's band will be 'The Cool', and they'll be playing a wide variety of music in different genres and tempos suitable for lots of dance styles - Modern Jive, Rock 'n' Roll, Blues etc.
Mandy and Basil are International Dance Teachers with over 50 years full time professional teaching experience between them, specialising in Argentine Tango, Blues and Blues/Tango Fusion Dancing, but also teaching several other styles of social (partner) dancing. They will be teaching a warm-up class that's fun and simple, and introduces you to how to dance to ROCK 'n' ROLL Music to get you moving to the more up-tempo numbers from the band! Anyone can join in - however many left feet you've got - and you REALLY don't need to bring a partner to come along and have fun!
This Special Event takes the place of IDW's Christmas Party this year, so Dancers from ALL Island clubs and styles (plus Bar Regulars, visiting Mainlanders and complete Dance Newbies!) are all very welcome to come along and join in - the event is completely FREE, but if you want to bring along a plate of goodies/snacks to share, please do so!! :) :)
R.O.A.R.
P.S. Watch out for more special Dance/Live Music events at Bar 74 on the 24th of Jan and 14th of Feb (Valentine's Night!) 2020...
BAR 74 venue
Address: 74 Union Street Ryde Isle of Wight