Complete Beginners Lindy Hop
Workshop run by Homefront Lindy Hop
Saturday 22 February 2020
In Past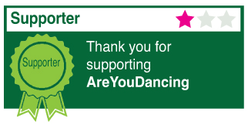 Complete Beginners 3 day course
Dance Styles: Balboa, Charleston, East Coast Swing, Lindy Hop
Price: £15
Time: 11am - 2pm
Ticket Options: Not yet specified
Complete Beginners Lindy Hop Workshop with Alan and Mandie
Saturday 8th, 15th and 22nd February 2020
11am - 2pm
Little Common Community Centre, Shepherds Close, Bexhill on Sea, East Sussex, TN39 4SQ
£15 per person
£40 if you book in advance for all 3 workshops
Free Tea, Coffee, Squash and Biscuits
We will teach East Coast Swing Style Lindy Hop.
The workshops will be held on Sundays over 3 weeks, each week you will learn new moves to cover all the fundamentals of lindy hop, from the basic foot work to Charleston, Lollies, Tandem Charleston and Jigwalks. You will then be able to attend any of our regular weekly classes at any of our Village Halls! So, come along and join in the fun!!
Everyone welcome, this is an open workshop so please come along and join in regardless if you have never danced before or if danced any other style before, Lindy Hop is fun and good exercise.
We also hold Dances twice a month! Which you will be able to attend and join in!
For more information, please do not hesitate to contact us:
Alan 07709053688
Melanie 07766881045
homefrontlindyhop@yahoo.co.uk
www.homefrontlindyhop.co.uk
Little Common Community Centre venue
Nice Hall, wooden floor, good car park
Drive towards the School and the hall is just before on the left
Address: Shepherds Close Little Common East Sussex TN39 4SQ
Show on Google Maps