Swingout Course
Class run by Swing Dance Leeds
Wednesday 14 October 2020
In Past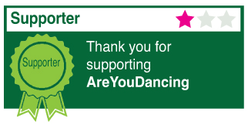 4 week course on Swingouts and Lindy Turns, basic grasp of Lindy Hop required.
Dance Styles: Lindy Hop
Price: £32 for the 4 week course
Time: 8:30pm - 9:30pm
Ticket Options: Ticket Only (Prebooking essential)
Swingouts are the quintessential move of Lindy Hop, so we've dedicated an entire four week course to teaching them.
Swingout Course
Wednesdays
8:30 – 9:30pm at The Dance Studio Leeds
The course will go over the basic shape of a swingout and progress to more in depth technique and a couple of variations to spice things up a bit. As usual with our courses numbers will be limited so we can give you personal feedback on what you need to make your swingout awesome.
Appropriate for those who have learnt a swing out shape and want to improve on their technique and learn a variation or two. This course also for people who've never learnt a swing out, but have a solid grasp of the fundamentals of Lindy hop – this is the next step for you.
The Dance Studio Leeds venue
Local dance studio in Leeds. Good floor, two walls of mirrors, air con, kitchen area
Entrance to the mill is from Macaulay Street. Sat Nav postcode LS9 7SW.
Address: Mill 6, First Floor Mabgate Mills Leeds West Yorkshire LS9 7SW
Show on Google Maps