FCDS Improvers Ballroom Latin & Seq
Class run by First Class Dance School
Sunday 26 January 2020
In Past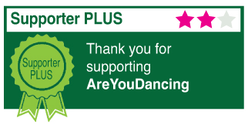 8pm Next Steps Improvers Class - Ballroom & Latin Dance
Dance Styles: Cha Cha Cha (Ballroom), Foxtrot, Jive (Ballroom), Modern Tango, Quickstep, Rumba, Samba, Popular Sequence, Viennese Waltz, Waltz, Modern Sequence
Price: £30 per 6 week term or £6 per class
Time: 8pm - 9pm
Ticket Options: Pay on door
ISTD Qualified Dance Teacher, provides tuition, in Ballroom and Latin dances.
This class is for those who've been dancing for about a year or more. We teach figures and routines for the Waltz, Foxtrot, Quickstep, Tango, Viennese Waltz, Rumba, Cha Cha Cha, Jive and Samba as well as Classical/Modern Sequence (popular sequence)
Read what our students have to say
https://www.ballroomlatindance.uk/testimonials/
and our Google Reviews and Facebook recommendations
For NEWS of new Classes and Social Dancing, Dance Technique Workshops, Dance Shoes, Dancewear, Dance Holidays
Please visit our website
https://www.ballroomandlatindance.uk
follow us on facebook:
https://www.facebook.com/Firstclassdanceschool1/
or Email
firstclass4dance@gmail.com
Hope to see you soon, Thank you.... Keep Dancing
:-)
Loders Village Hall venue
Hall Directions: Entering the village from the west, via Bradpole, about 100 metres past the Church turn left between two houses, there is a sign on the right hand side of the road. Entering fron the east; go past the School and just beyond the Loders Arms turn right between two houses. There is a sign post on the left hand side of the road.
Parking:
Dedicated parking space for approx 50 cars
Lighting:
Outside and Porch lighting
Facilities:
Ladies, Gents and Disabled Toilets
Local Pub nearby:
The Loders Arms
Photos of the hall on the website
www.ballroomlatindance.uk
Address: New Street Lane (see description for details) Bridport Dorset DT6 3SA
Show on Google Maps