Advanced Ballroom & Latin Class
Class run by Rendezvous for Dancing
Thursday 16 April 2020
In Past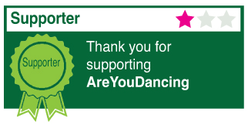 Advanced Ballroom & Latin Class
Dance Styles: Cha Cha Cha (Ballroom), Foxtrot, Jive (Ballroom), Modern Tango, Paso Doble, Quickstep, Rumba, Samba, Popular Sequence, Viennese Waltz, Waltz, Modern Sequence
Price: £8
Time: 8:15pm - 10:15pm
Ticket Options: Pay on door
This class has been running several years and covers all Ballroom & Latin dances with more complex figures being taught and an emphasis on leading in the Ballroom dances. Class does include some Sequence also.
Email: rendezvousfordancing@gmail.com
Tel: 07504 714 768
Website: rfdancing.co.uk
We have several different levels of Ballroom & Latin class running each week, we'll find the right class for you!
Alternatively, we offer personal lessons if you prefer to learn on a 1-2-1 basis. These are available in the afternoons and evenings 5-6 days a week. Must be booked in advance.